How do I control who sees my ProJobs in-formation?
How do I control who sees my ProJobs in-formation?
All the information you enter in ProJobs is protected by your ProJobs visibility settings and only visible to those XING members who you have specifically decided can view this information. Top recruiters have access to this information as a default setting. These are headhunters and HR employees in companies who use the XING TalentManager. You are of course free to change these settings as you wish however. In the ProJobs visibility settings you can filter whether:
Top recruiters (headhunters or HP employees in companies)
Your contacts
Non-contacts
Individual people selected by you
can see your jobseeker status, your jobseeker criteria, additional profile information or uploaded documents, and additional contact options.
The people you block will not find out that you're looking for a job, nor will they have access to the ProJobs information in your XING profile, nor will they be able to see that you have a ProJobs membership. For these individuals you are officially a Premium member.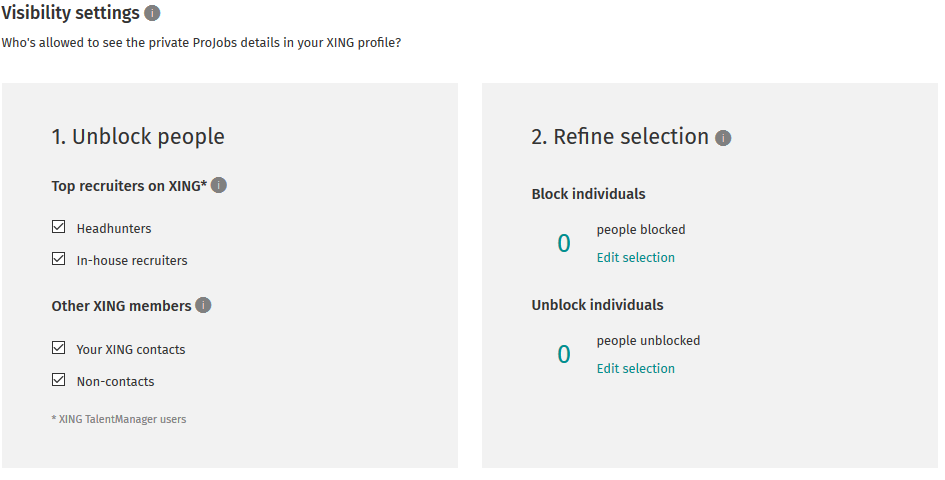 If you agree to top recruiters seeing this information but block contacts, non-contacts and individuals, the blocked people will not be able to see your ProJobs information even if they have top recruiter status.
It is not possible to block entire companies as XING has no control over whether all your colleagues have entered details about the company they work for, or whether all employees have spelt the company name correctly.  
You can always check what your XING profile looks like for profile visitors you have shared your ProJobs information with. Select "Profile view" in the top right corner of your profile and then "View for approved people".
Thank you for your feedback!
Top