Answer
You can delete a group yourself, provided:
you're the group owner.
your group has less than 5 members.
your group has less than 5 threads.
If these criteria apply in the case of your group, simply click in the top right of the group page on the More button and select Delete this group.
If your group has more and 5 members and/or more than five threads, please proceed as follows:
Post a moderator news informing the group members that the group will be deleted in two weeks and ask whether one of them wishes to take over as moderator.
If no member expresses an interest in the group or becoming moderator after this 14-day period, you can request that the group be deleted by contacting us via the contact form. Please include the link to the group you want deleted, in order to avoid any errors or misunderstandings.
Why announce it as moderator news?
Posting moderator news will mean that your message is also sent out to all group members by e-mail, including to those members who are not as active in the group. This way you won't have to deal with any enquiries about what happened to the group at a later stage. It also gives members the chance to connect with others and store group content before the group is deleted.
Image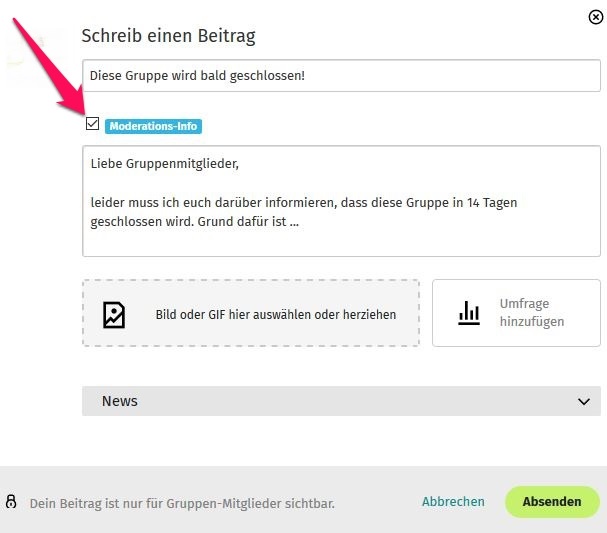 Warum Du die Löschung durch eine Moderator-Info ankündigen solltest?
Durch die Moderator-Info, die zusätzlich per E-Mail an alle Gruppen-Mitglieder versendet wird, erreichst Du auch die Mitglieder, die nicht so aktiv in Deiner Gruppe sind. Du ersparst Dir damit mögliche Rückfragen nach dem Verbleib der Gruppe. Die Mitglieder haben außerdem die Möglichkeit, sich rechtzeitig vor der Löschung untereinander zu vernetzen und Gruppeninhalte zu sichern.